What is a Super HHG ?
A Super HHG is a special HHG (Holy Hand Grenade) specifically designed for the home. It is created as a work of art, visually pleasing and generating a powerful field of beneficial Orgone. The Super HHG will absorb the deadly Orgone (DOR) and transforms it into beneficial Orgone (OR). It will also clean up any earth energy vortexes present and make sure they spin the right way. It is self clearing and does not need to be "cleansed".
Each unit is a real craftman's piece, highly polished and superbly finished. They are so attractive in look and feel that I have seen people hugging them and feeling an instant connection and sense of inner rest.
They all contain 5 specially selected crystals. Each piece is unique. Some incorporate additional Lohan or crop circle coil, or special patterns, as guided during craftmanship. They are about 14 cm hight and polished to a very high quality finish .
What effects to expect?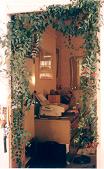 You will watch your plants, pets and water become more alive. It will affect your neighbours and your neighbourhood as well.
A few days after I put one on the brick wall separating us from the neighbours, they stopped fighting with each other, they even say hello to us now.
The pot plants in the office are climbing all over the walls, they even flower inside several times a year now.
How to use them?
Put them at the center of your house or in your bedroom (I have even one in my car). After the unit is in place for a few days, it will start to work and balance the local energies.
It is not unusual for them to create a field reaching 15 metres above, and six meters below. The field may cover a circle up to 40 metre diameter horizontally around the unit.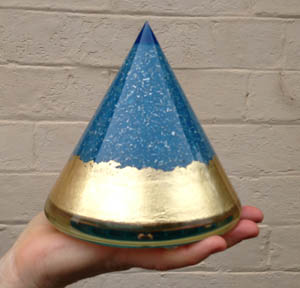 How did we test the energy field
We placed the unit on its side, in a park, free from strong earth energies. We dowsed the energy field and pegged the outline with little red flags. This method is simple, effective and quite accurate. See the section on measurements (under construction) to see how we detect the field boundaries and strength.
New Super HHGs become available on a regular basis. They are manufactured completely by hand and take a bit more than a week to mould, cure, shape, file and polish. They look stunningly beautiful and are very effective. They are all based on a proven model for effectiveness. The latest models, result of many years of experience (since 1996) are shown below.

Note: The HAS 37 and 40 are so popular that I produce a new one each time one is sold, so they are always available. Bear in mind that there will always be small variations between models due to the artistic creative and energetic nature of the work.
Side View --------------------------- Bottom view