We have investigated a number of pendants using dowsing. So far the one we have selected as being the most effective is based on the Safe Space II device.
You can read more on the Safe Space II device here: SAFE SPACE II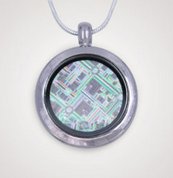 The Safe Space II is housed in a silver case to protect it.
It is held with a nice leather string so that you can safely pass it above your head without having to open any latch. It can then rest on your chest close to your thymus for effective personal protection.